Jeff Careaga has extensive experience and has been qualified in dozens of North NJ municipalities as a land use expert for Land Use Board, Planning Board, and Zoning Board of Adjustment public hearings for residential and commercial development projects, and we can complete your commercial or residential site plan or lot development plan design including, grading plans with retaining walls, soil erosion plans, lighting and landscaping plans per Municipal requirements.

Prior to purchasing properties, many repeat clients and buyers of property, sellers, attorneys, developers and builders utilize the services of Careaga Engineering for analysis of Local Zoning Codes, confirmation of necessary NJDEP wetlands, and NJDEP Stream Encroachment FHA ( Flood Hazard Area) permitting, and potential Highlands Preservation area or other approvals necessary for development of a particular property.

Services provided for preparation of Residential and Commercial Site Plans for approval from Township, Environmental Impact Statements (EIS) for local and County and State agencies including:


Planning Board, Land Use Board, and Board of Adjustment Applications- Experienced and qualified NJ land use expert with experience at hundreds of public hearings for subdivisions, site plans and variance applications in over 50 Municipalities.
Lot Grading Plans and Lot Development Plans, Site Plans, Plot plans, Retaining Wall designs, Lot Coverage Calculations, Drainage Engineering Design, Stormwater Best Management Practices, County and Township soil erosion control plans, lot grading plans, expert witness for drainage problems, engineer for excavating contractors.
Plot Plans, wetlands NJDEP permits, dredging permits, NJDEP NOV Restoration Plans and Wetlands General Permits 1,2,3,5,6,7,8,9,10a,11,12,13, Flood Hazard Area FHA stream encroachment permits, waterfront engineering, dredging permits, seawall design and permitting, lakefront approvals, verification of FHA Permit by Rule, filling wetlands, transition area waivers, Highlands Act and Preservation Area Approvals
Commercial and Residential Site Plans and Subdivision Plans, Variance applications, Lot line adjustments, deed descriptions, easement descrioptions
Roadway Design, Parking Lot Layout, NJDOT State and County Road Driveway Access Permits
Sewer Main Extension Plans, NJDEP approvals for Sewer Extensions, Sewer Pump Systems
Storm-water Management- Erosion Control engineering, drainage engineering, detention basins, retention basins, bio-retention basins, drywells, stormwater treatment, drainage mitigation, reduce runoff environmentally friendly drainage design, french drains, flood engineering, forensic studies for drainage problems
Environmental Permitting- NJDEP Wetlands, Highlands Preservation Act approvals, Flood Hazard Area FHA permits, and FHA Permit by Rule, wetland mitigation, Sustainable and Regenerative Design Build Construction, environmentally sensitive construction tequiniques, waterfront revitalization
Septic Designs, Public Water and Sewer Connections, Treatment Plant design, and NJDEP Treatment Works and NJPDES T-1 and other over 2000 gallon per day discharge approvals
Lakefront Approvals and Waterfront Engineering Design - Docks, Piles, Concrete seawalls, vinyl seawalls, seawall repair and replacement
Structural- Residential Foundations, Beam Sizing, framing problems, cracked foundations, specialty masonry, forensic studies, expert witness
County Soil Erosion and Sediment Control Plans (Morris, Sussex, Bergen, Essex, Warren, Hunterdon, Somerset, Union, Passaic County, and others)
Retaining Wall Design - Experience with most types of modular block (Keystone, Anchor Wall systems, Allan Block, Techo block, Liberty Cornerstone, etc.), rock, stone, and boulder retaining walls, gabion baskets, gravity retaining walls, rammed earth construction techniques, reinforced cement soil.
Construction Details .. Direct all email correspondence to jeff@careagaengineering.com or call us at 973-448-0651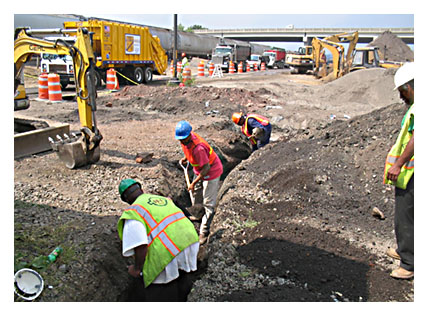 Serving
NNJ, North NJ, Northern NJ, Sussex County NJ, Morris County NJ, Passaic County NJ, Union County, Somerset County NJ, Warren County NJ, Bergen County NJ, Hunterdon County NJ, Essex County NJ, Kinnelon NJ, Oakland NJ, Wyckoff NJ, Wantage NJ, Franklin Lakes NJ, Wyckoff NJ, Jefferson NJ, West Milford NJ, Lake Hopatcong NJ, Randolph NJ, Cedar Knolls NJ, Chatham NJ, Convent Station NJ, Chester NJ, Flanders NJ, Mount Olive NJ, Upper Saddle River NJ, Northen-NJ, Budd Lake NJ, Byram NJ, Denville NJ, Green Pond NJ, Rockaway